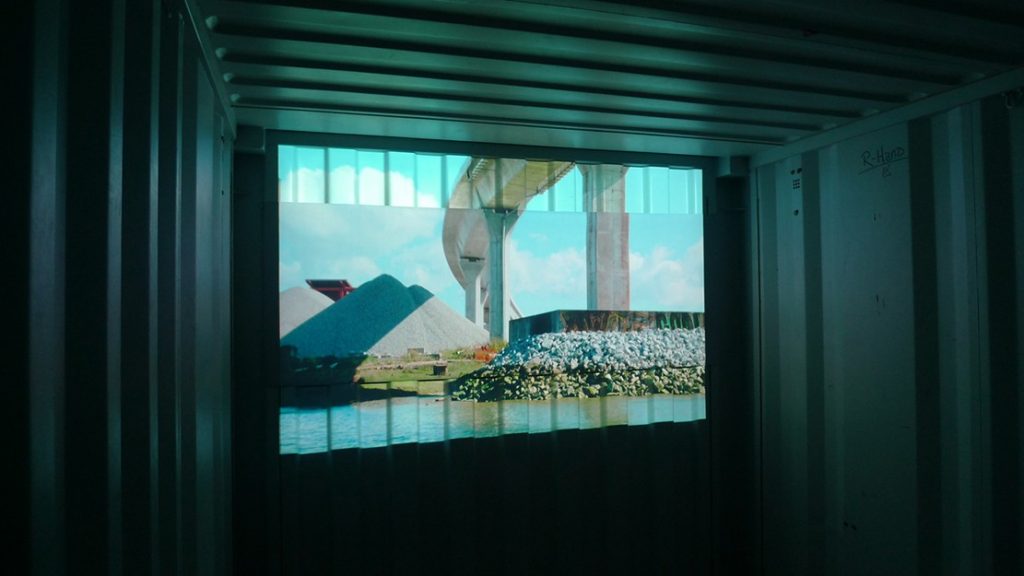 Island (2014), Video projection with sound. 5min 37 sec loop.
Artists Deanne Achong and Faith Moosang took a boat trip around Lulu Island, Richmond (BC, Canada) and filmed the island from the vantage point of the Fraser River. Large-scale industry and gorgeous vistas exist side by side on the periphery of Lulu Island. The edge of the island reveals its specific and still unfolding history— from wilderness through agriculture to resource extraction. The three hours of footage have been edited to a 5 min video loop.
The sound track uses a blend of an 1888 wax cylinder recording of Handel's Israel in Egypt and a 1934 version conducted by Sir Thomas Beecham. The Handel wax cylinder is one of the earliest recorded sounds in audio history. The recording is a tenuous representation of the Oratorio that is not obviously music – slipping into sounding like drums, trains, machinery and even wildlife.
Island was created as part of a public art commission received by artists Deanne Achong and Faith Moosang, from the City of Richmond. Its exhibition history is as follows:
Your Kontinent Film and Media Arts Festival,  July 2014
Ships to Shore Festival, June – July 2015
Britannia Heritage Shipyards, permanent display in late Fall of 2015
More information about the entire  public art project — Lulu Suite – here