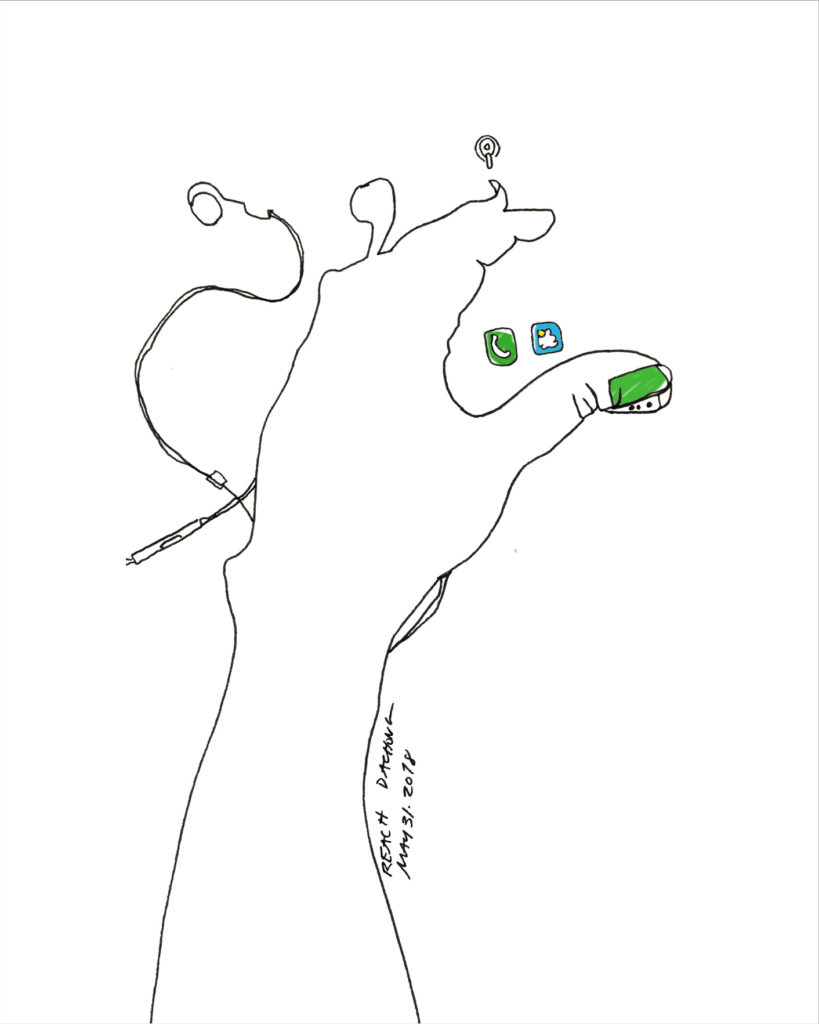 Art
Drawing
I just completed #The100DayProject with #100DaysofImperfection and #100DaysofEnsos * . I started it on more or less of a lark, without a clear sense of the outcome. The unexpected side effect is that I prioritized drawing every morning. Every day I woke up and drew my hand holding my phone / apps before turning the beast on (other than to draw the app), and being seduced by its numerous offerings.
My previous habit was that almost as soon as the alarm would go off (on phone sitting on my bedside table ) I would turn it on and check. Check. check. Check. Emails, the socials, you name it. Provoking a feeling a anxiety.
I'm happy to report that I've broken that habit and kept up with the new one of drawing. Which is a lot more energizing. And fun. (Follow me on IG)
[* Borrowing from a Japanese buddist monk tradition (of which I am neither, although I am part-Chinese), you draw a circle with ink on paper, in one breath in, and one breath out. I've expanded this to include multiple breaths in and out speculating on the existence of parallel universes]
Baking A Cake
This summer, participated in a radio-art happening. Read more about this #socialpractice #networked #radioart #/// event here.
Thrive Art Studio Mastermind
Joined this group of women artists last year, it's now my 2nd year. It's not quite what I expected, and I'm not entirely sure it's totally the right space for my practice — but the women are fabulous, it's engaging and keeping me on my toes!
Shop
Launched a shop to sell some prints. (Internal academic critical voice be damned). This took a surprisingly long amount of time to do. A mix of resistance and hesitation and just slogging through scanning et al. Plus all the e-com deets. I've got 7 prints up for sale. They are limited edition prints on archival watercolour paper. They start at $35 each for an 8.5″ x 11″ giclée print. If you're reading this page, enter the code ThereIsOnlyNow and get 11% off.
Fitness
Swimming. Twice a week at UBC. Yahoo. Also Squats. Even with a dodgy knee, I highly recommend. (Sumo version easier on knees)
Reading
Lots of mystery novels. My first love.
Highlights — so far — of more 'serious' fiction / lit:
Rivkah Galchen – American Innovations
Re-reading: Walter Benjamin – Illuminations
Looks like I'll have to hunt down a title with the letter "I" — open to suggestions.
Other
Been making my own kombucha for almost a year now. 3 scoby hotels later, I'm really enjoying experimenting with flavours. Latest brew: Cherry and Ginger.
Next phase: dry out scobies and turn into a sea monster.
Last update: July 30, 2018
NOW – Inspired by Derek Sivers