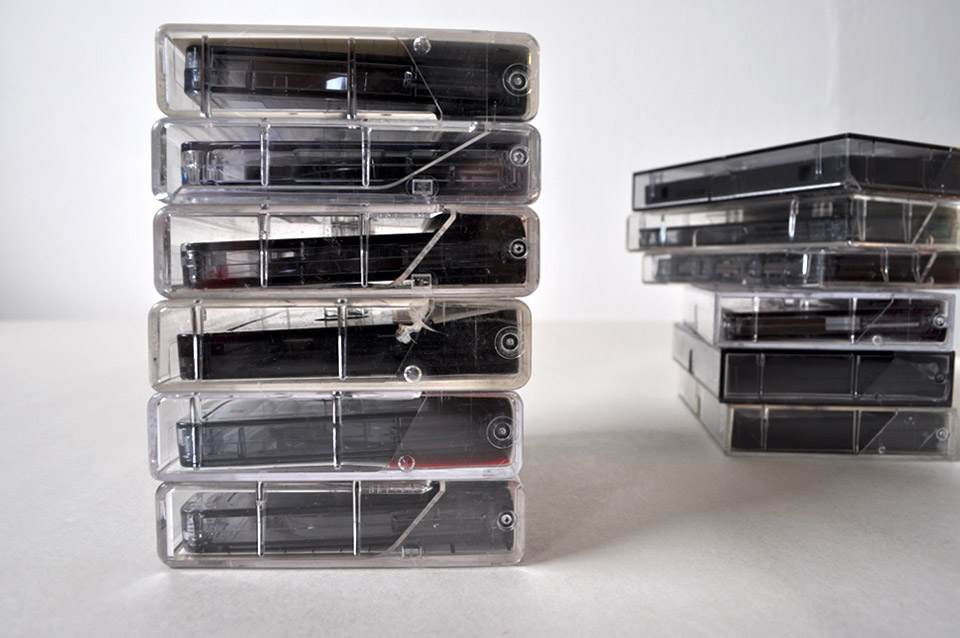 Ars longa, vita brevis — A reflection on the lifespan of an idea.
I did an interview project once where I asked people to tell me their fears. I recorded these confessions with a cassette tape recorder. The technology gives you a clue as to how long ago it was.**
Recently in spree of decluttering, I found a box of stuff I had moved two years ago from my old studio to home. It never made it down to the new studio. As I opened the box and unearthed the tapes, amongst other delectable treasures, the delicious thought bubble popped into my head, "What if I don't keep these?"
It felt rebellious.
There were also other tapes — I took singing lessons around the same time and have faithfully held onto them (and the rickety player) with the tender ambitions of someday singing in a smoky jazz club in Paris.
Back to those fears. When I recorded them, I promised each of the interviewees I would never publish them. So they became secrets confessed to the machine and to my memory. I marked the outside of boxes with first names only or initials, depending on the consent each person gave me.
Beta Version
The first iteration of exhibiting these was a small pile of cassettes held together with lots of fat gift pink ribbon. It cascaded to the floor in what I hoped was an echo of the cassette ribbon itself.
No documentation. No regrets.
Were I to re-do this iteration, I would go much bigger. A roomful of ribbon.
Initial Release
The 2nd iteration was an unwinding project – not of these cassettes – but of others, where I unwound heaps of cassettes. A meticulous task, with a backdrop of the rhythmic calming sound of the spinning reels. Only after I had unwound dozens of tapes did I find out you should wear gloves because of some kind of toxic material….
I stuffed the messes of tape into a bunch of mason glass jars. Did not exhibit.
Moved to another studio. Decluttered. Kept only one spool of tape. It now sits in a 5×7 frame on a shelf above my desk, teasing me.
The Guest Appearance
In 2012 a decluttering spree / 30 day challenge morphed into a Year long project. The Obsolescence Project —The Usefulness or Useless Things. Every day I photographed and blogged about obsolete things, be they real or metaphorical. This was Two Years Before that pixie Marie Kondo's book was published. Or at least the English release .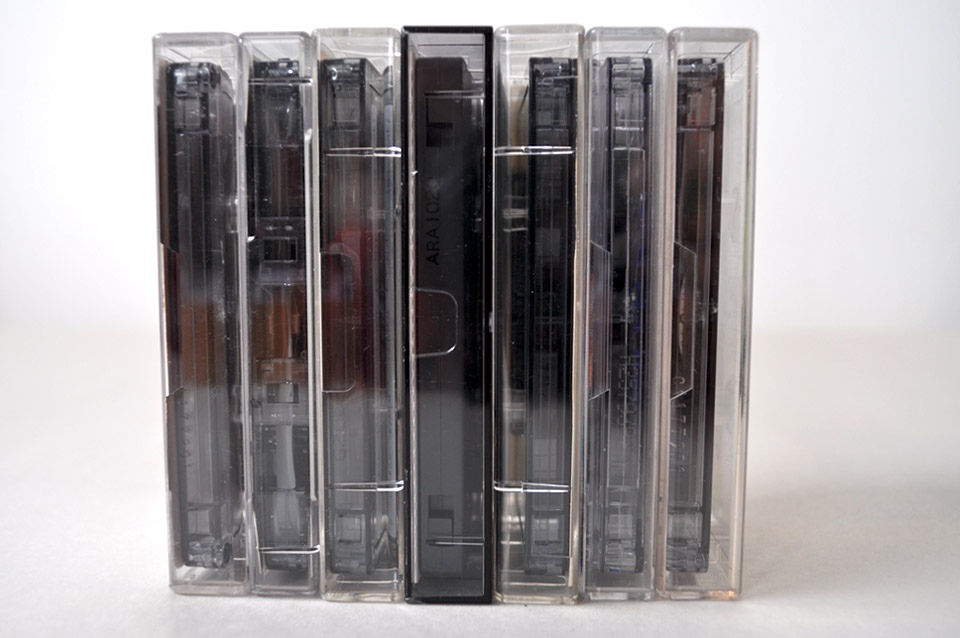 NOW
Act upon whim, and before the grip of regret can grab hold take action. Boldly unwind these precious tapes! Including the singing lessons.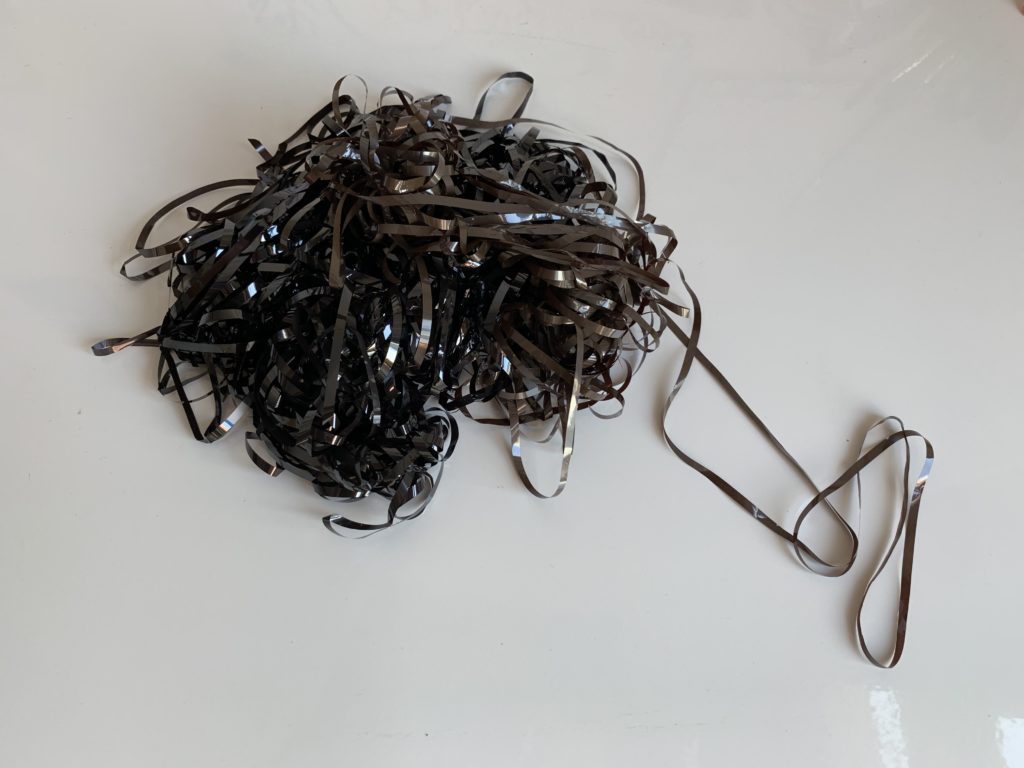 Delicately make the first cut.
Hold tape high above my head and let the teams fall out. Rinse, lather, repeat. Get a bit bored.
Decide don't need to keep entire amount of each tape. Quickens the process.
Near the end wonder if I should have been filming this. Fleeting Untitled Regret no. 897 is filed away in the back of my brain.
While wearing gloves I stuff the tape into plastic bags. (Themselves guilty remnants of another project that must be used …)
Dutifully separate out the paper covers and toss into recycling bin, as well the hard plastic cases (after briefly debating whether they could be used for something ). Bring rest of spools themselves with a bit of tape to London Drugs. They take VHS tapes et al . And hopefully they don't just toss them.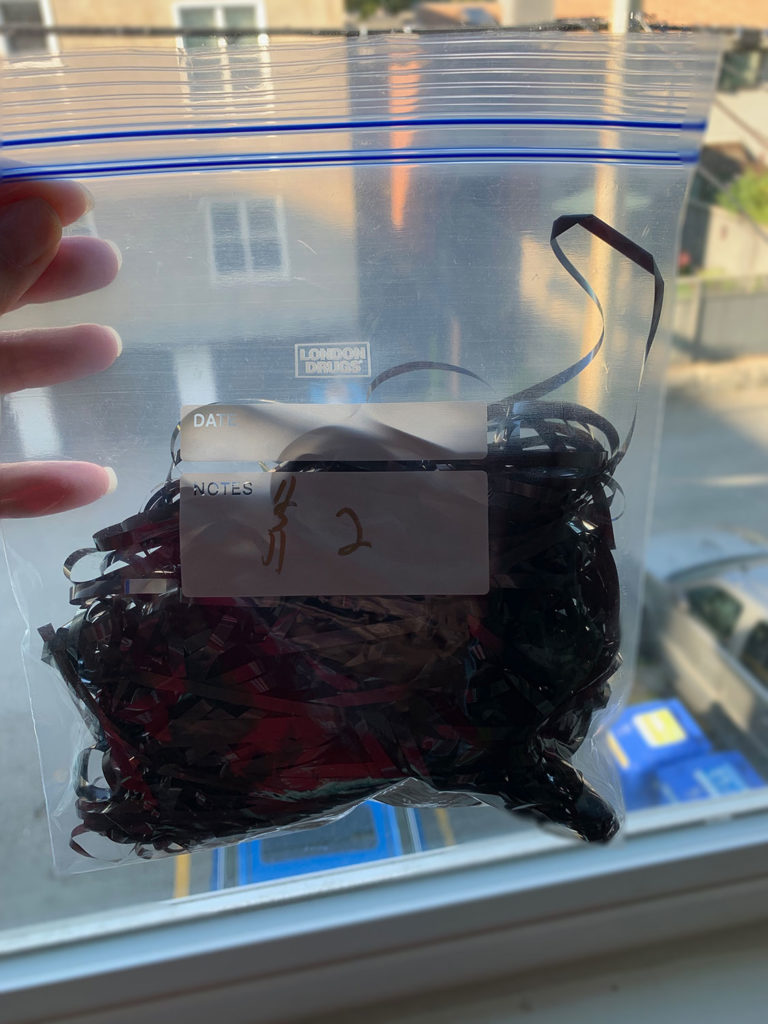 ** Although, incidentally I read that the first digital tape recorder was demonstrated in Japan in 1967 and the first commercially available one was 1977. A lot longer that I thought. Thanks to the g0—-gle g-ds I can see that in fact my project spans the time the iPod was introduced. But I didn't own one. It was US $399
End Game
Freed up a lot of energy. Also planted more seeds for further variations … In other words, there is never an end. But boy was it ever satisfying to actually cut that physical tape. It can now never be listened to. So my promises are kept.